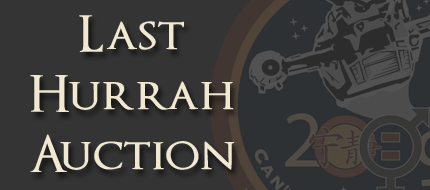 It's the end of the year, and we're ending 2009 with a spectacular finale!
To celebrate the end of another year of fantastic events, the Global 2009 Can't Stop the Serenity Team, in conjunction with the California Browncoats, are proud to give you the chance to win some fantastic prizes in our online "Last Hurrah" auction.
All proceeds will be donated to Equality Now and be included in the 2009 Global Donation Total, which currently stands at US $128,000. Your bids will help us to reach this year's goal of US $150,000 raised for charity!
Here's just a sampling of what's up for grabs this week:
Serenity mini-poster signed by Joss Whedon
Gorgeous photo signed by Dichen Lachman
Rare original first draft script of Angel: Aftermath comic, Issue #18, autographed by writer Kelley Armstrong, plus copies of Angel: Aftermath Issues #18, #19 and #20 autographed by Kelley Armstrong.
Dr Horrible's Sing-along Blog print signed by Neil Patrick Harris, Nathan Fillion and Felicia Day
Serenity prop chopsticks and Companion Pack
The Guild: Season 1 DVD, signed by the entire guild
Tour of the Dollhouse costume department with Shawna Trpcic, plus a gorgeous photo signed by Felicia Day
Visit our Auction page for the full list! The auctions will go live this week on eBay, so start saving up!
All proceeds from the auctions will be donated to Equality Now, so bid high and bid often! This is a wonderful opportunity to own an awesome prize, and help Equality Now fight for the rights of women and girls who can't fight for themselves.
Let's end the year with a bang, and hit our target of $150,000 raised by Browncoats for Equality Now and other worthy charities through Can't Stop the Serenity 2009!!
Posted by
Jen
on November 11, 2009 in
CSTS Global
tagged with
Tiny URL for this post: http://tinyurl.com/4pw5omx