Memorabilia
The 2008 CSTS T-Shirts and Posters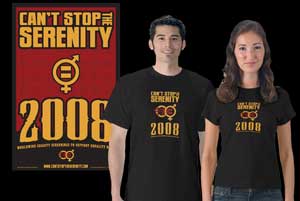 The poster is a 24 x 36 poster, with the artwork designed for the 2008 Can't Stop The Serenity events by Adam Levermore-Rich.
The t-shirt is a red tagless t-shirt, with the participating cities listed on the back in "tour" fashion.
You can pre-order shirts and posters for the 2008 CSTS event at our Tickets page.
Proceeds from the sale of these posters and shirts go to Equality Now, the charity behind the Can't Stop The Serenity events.
All tickets and memorabilia will be available for pick-up the day of the show (Sunday, 22 June 2008) at the Studio Movie Grill in Dallas beginning at 11:00 am.