2013 Sponsors
Can't Stop the Serenity is grateful for the helping hands that have stepped forward over the past seven years in support of Equality Now and the Fans of Serenity. Our Global Sponsors support all of our events and contribute to the global success of Can't Stop the Serenity. We are also fortunate to have many local sponsors, who support the individual Affiliate and Screening events. Click here for information on how to become a Global Sponsor.
Alphabetical Listing
Barringer, Anne
Bedlam Bards
Bellflower
Break.com
Broken Record Films
Browncoats Band, The
Contact-Infinite Futures
Creation Entertainment
Cummings, Jen
Daly, Tim
Dark Horse Comics
Day, Felicia
Diamond Select Toys
Done the Impossible
DragonWeave Jewelry
Espenson, Jane
Gunn, Marc
Hance, James
Hillerup, Colleen
Hilton, JL
Kids Need to Read
Mason, Mikey
New Melbourne Browncoats
O'Connor, Sheilah
Oz Comic Con
Quantum Mechanix
Sending A Wave
Signal, The
Smart Pop Books
Supanova Pop Culture Expo
Think Geek
Town, Nathan
Warrock, Adam
Whedon, Joss
Detailed Listing
Anne Barringer was the 2009 Global Organiser of Can't Stop the Senenity. As a passionately dedicated Browncoat and advocate for Equality Now, Anne has given countless hours of her time to help make Can't Stop the Serenity what it is today. Her "Why We Are Here" articles have inspired likeminded fans to do that something extra and to go the additional mile to help others – those we know and those who are strangers to us. Anne's contributions to CSTS include covering the website hosting and domain name registration fees.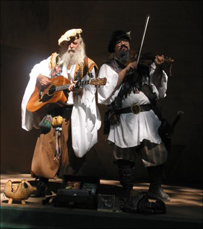 Bedlam Bards are the premier musicians of the Browncoat movement. Their award-winning album, On the Drift: Music Inspired by Firefly and Serenity, set the standard for Whedon-based fan music, leading to their being a part of many of the major flan activities around the globe: The Signal and Firefly Talk podcasts, the Browncoat Backup Done the Impossible, The Big Damn Cookbook, the Browncoat Cruise, Bards without Borders, the Browncoat Ball, the 76th Independent Battalion, and of course, Can't Stop the Serenity. During the writer's strike, they marched with fans outside of Fox Studios on Mutant Enemy Day, even serenading Joss Whedon as he walked down the street. They made a cameo in the recent independent film, Browncoats: Redemption, which features one of their songs.
Website
Break.com is a humor website founded in 1998 that features comedy videos, flash games, and pictures among other material. They were very kind to allow us to show some of their very funny content in our extras video.
Website
Bellflower is a Firefly fan film.
Website
Broken Record Films is rocking this world, and possibly others, one short film at a time.
Facebook
The Browncoats Band are a comical rock band hailing from St. Louis that laments about outer space, drinking, flying airplanes, and shenanigans. The band literally flew onto the national music scene driving a Cessna in the release of their first music video for "The Hero of Canton" in April 2009. Since the release of their debut album CD/DVD combo at Dragon Con 2009, they have been touring conventions, nightclubs, and other shindigs. With the addition of the newest album "DRUNK", the band has undertaken all new genres and roads of creativity from harder rock to worldly gypsy music. The Browncoats have a live show that stays fresh by consistently pairing with unique acts from comedy, to rock bands, to circus freak shows! They have worked with actors from Saturday Night Live and MTV and are always in production of new music and videos.
Website
Contact-Infinite Futures is comprised of SF/SFR authors including Robert Appleton, Lilly Cain, Diane Dooley, Kait Gamble, Anna Hackett, J.L. Hilton and Cathy Pegau. We are honored to support Can't Stop the Serenity. Like our beloved Firefly, these stories contain action, adventure, romance, humor and faraway worlds.
Here's a little more info about the authors and their books:
Alien Revealed by Lilly Cain is an erotic alien romance set against the backdrop of a greater galactic war that's arrived on Earth's doorstep.
Blue Galaxy by Diane Dooley is a futuristic romance about a space captain who gets more than he bargained for when he agrees to transport a high-ranking and beautiful passenger.
Liar's Game by Kait Gamble is the story of a ragtag crew of prison escapees led by "deceased" captain Aurelia Popkiss, who finds a mysterious stowaway on board her ship.
Rulebreaker by Cathy Pegau is a sci-fi F/F romance – but when you're a liar and a thief, falling in love means risking more than just your heart.
Sparks in Cosmic Dust by Robert Appleton is about four strangers – whores, criminals and outcasts – who are offered the treasure of a lifetime.If they can survive to claim it.
Stellarnet Rebel by J.L. Hilton is the post-cyberpunk sci-fi story of interstellar bloggers, alien freedom fighters, sex, violence and video games. EPIC Award finalist for best sci-fi ebook of 2012. SFR Galaxy Award winner for Best Non-Traditional Romance.
Winter Fusion by Anna Hackett is a science fiction romance released as part of the anthology, A Galactic Holiday.
Website
Creation Entertainment: Founded in 1971 by Gary Berman and Adam Malin, two young teenage sci-fi fans in New York, Creation Entertainment continues an over 40 year tradition of producing the world's leading conventions for fans of genre television and film. ??Inventing the concept of "traveling" fan conventions, Creation has brought its brand of live interactive entertainment events to millions of attendees throughout the United States, Canada and Great Britain. Beginning with the development of localized comic book conventions in the 1970's 1980's, including its long running annual Thanksgiving weekend event in Manhattan, Creation later moved its interest into focusing on sci-fi, fantasy and horror television series and films. ??Along with being on sale at its conventions, Creation's genre merchandise is also on sale through the website. Creation also maintains a popular presence on eBay and its own Creation in house auction site, offering autographed collectibles gained contractually through celebrity appearances at conventions.
Website
Facebook
Twitter
Jen Cummings has been a proud supporter of Can't Stop the Serenity since its beginnings in 2006. She has been a local event organizer in Melbourne and Vancouver, and has been involved at the global level since 2009. Jen has also been a Can't Stop the Serenity mentor and is the President of New Melbourne Browncoats.
Tim Daly is a stage, screen and voice actor, director and producer. He is best known for his television role as Joe Hackett on the NBC sitcom Wings and for his voice role as Superman/Clark Kent in Superman: The Animated Series, as well as his recurring role of the drug-addicted screenwriter J.T. Dolan on The Sopranos for which he was nominated for an Emmy Award. He starred as Pete Wilder on Private Practice . He allowed us to use his DalyShow webisode with Nathan in our extras video.
Dark Horse Comics: Founded in 1986 by Mike Richardson, Dark Horse Comics has proven to be a solid example of how integrity and innovation can help broaden a unique storytelling medium and establish a small, homegrown company as an industry giant. The company is known for the progressive and creator-friendly atmosphere it provides for writers and artists. In addition to publishing comics from top talent such as Frank Miller, Mike Mignola, Neil Gaiman, Brian Wood, Gerard Way, Felicia Day, Guillermo Del Toro and comics legends such as Will Eisner, Neal Adams, and Jim Steranko, Dark Horse has developed its own successful properties such as The Mask, Ghost, Timecop, and SpyBoy. Its successful line of comics and products based on popular properties includes Star Wars, Mass Effect, Buffy the Vampire Slayer, Aliens, Conan, Emily the Strange, Tim Burton's Tragic Toys for Girls and Boys, Serenity, and Domo. Today Dark Horse Comics is the largest independent comic book publisher in the US and is recognized as one of the world's leading publishers of both creator-owned content and licensed comics material.
Website
Felicia Day is a professional actress who has appeared in numerous mainstream television shows and films, most recently guest starring on the CW show"Supernatural", and completing a two-season arc on the SyFy series "Eureka." However, Felicia is best known for her work in the web video world, behind and in front of the camera. She co-starred in Joss Whedon's Internet musical "Dr. Horrible's Sing Along Blog," which was ranked in the "Top 10 Best TV of 2008" by Time Magazine, Entertainment Weekly and People Magazine and won an Emmy in 2009. She also created and stars in the hit web series "The Guild," which is currently in its sixth season of production. "The Guild" has won numerous awards for web video excellence, most recently garnering a PGA nomination for best web series in 2011. She retained all intellectual property for her series, and has since expanded the brand into numerous merchandizing opportunities, including a hit comic book series with Dark Horse Comics.
Website
Diamond Select Toys was founded in 1999 by sister company Diamond Comic Distributors, Inc. Envisioned to create unique and exciting collectibles for children and adults alike, the company has licensed a variety of pop culture properties to be turned into merchandise. In 2007, Diamond Select Toys acquired select assets of the New York based Art Asylum, creators of the global Minimates brand.
Minimates have been recognized as the #1 selling block figure in the world and were the first toys ever to be inducted into the ToyFare Hall of Fame in 2007. With partners such as Marvel Enterprises, Microsoft, Universal Studios, Twentieth Century Fox, MGM and Sony Pictures, Diamond Select Toys and Collectibles produces a large range of products based on a wide variety of properties, and is headquartered in Timonium, MD.
Website
Art Asylum Website
Done The Impossible: The Fans' Tale of Firefly & Serenity is now available on iTunes in high-definition, and on DVD through DoneTheImpossible.com and Amazon.com. Done The Impossible has had the distinction of being an Official Selection at many film festivals around the world. The DVD, hosted by Adam Baldwin with voice-over by Jewel Staite, features interviews with Joss Whedon, the cast, crew, and most important, the fans themselves. The story chronicles the rise, fall, and rebirth of the cult TV show "Firefly" as told from the perspective of the fans who helped save it. Fans share what inspired them to become passionate about Firefly, to help save Firefly, attend shindigs, participate in message boards, donate to charities, and become Serenity extras. The CD soundtrack features seven outstanding artists and crosses multiple genres including Celtic and filk: The Bedlam Bards, Brobdingnagian Bards, Dan Sehane, Emerald Rose, Michelle Dockrey, Rob Kuhlman, and Tony Fabris.
Website
DragonWeave Jewelry offers a unique collection of stylish silver jewelry. Based in Philadelphia, Pennsylvania, DragonWeave is run by Nicole Bornak, and features her sister Jillian's bead bracelet designs. Designs include dragons, gothic and celtic mythology, goddess, angel and animal motifs, Japanese, Chinese and Egyption symbos and striking modern pieces. Nicole and Jillian have also designed Serenity inspired pieces. They are always eager to hear your comments and suggestions, feel free to drop them a line and share your opinions and ideas. They will do their best to make DragonWeave Jewelry a rewarding experience for you!
Website
Jane Espenson has written for Buffy the Vampire Slayer, Angel, Firefly, The O.C., Gilmore Girls, Dollhouse, Battlestar Galactica, Caprica, Game of Thrones, and Torchwood: Miracle Day among other series. She is currently a consulting producer on ABC's hit Once Upon A Time, and is co-creator of Husbands, a comedy viewable online.
Website
Twitter
Marc Gunn is an acoustic Celtic folk musician with a twisted sense of humor. My songs may not all sound "Celtic", but they are based firmly in the tradition… even the ones about cats, hobbits or Firefly.
Website
James Hance is a geek's artist. Best known for his Wookie the Chew prints, he is equally at home in most Fandoms.
Website
Colleen Hillerup & Sheilah O'Connor.These two friends, members of the Toronto Browncoats, have been supporting CSTS since its inception and are pleased to make donations to the Global Auction this year.
JL Hilton is a storyteller and jewelsmith whose art is featured in the books "Steampunk Style Jewelry" and "1000 Steampunk Creations." Her cyberpunk romantic thriller "Stellarnet Rebel" is the first book in the Stellarnet Series published by Carina Press, followed by the sequel "Stellarnet Prince" in November 2012. Browncoats know her as the founder of the Raleigh-CSTS event and 2009 global sponsor JLH jewelry.
Website
Stellarnet Website
Kids Need to Read works to create a culture of reading for children by providing inspiring books to underfunded schools, libraries, and literacy programs across the United States, especially those serving disadvantaged children.
Website
Mikey Mason is a Comedy Rock Star, a naughty cartoon character, and an experiment gone wrong. He explodes on the stage with unfathomable energy, relentlessly pounding away at his audience with a wit as fast as his mouth, infectiously outrageous original songs, and his completely twisted world view.
Website
New Melbourne Browncoats is the group for fans of Joss Whedon's television series "Firefly" and movie "Serenity", and other projects involving cast and crew of the Whedonverse. We've been active in Australia since 2005 as members of Browncoats Downunder and Serenity Oz, and later as Melbourne Browncoats. In 2011, we reformed as New Melbourne Browncoats Inc. Our aims are simple – we love doing good works, and spending time with fellow Whedonverse fans. In addition to hosting our annual Can't Stop The Serenity event, we're also involved on the Australian convention scene via NMB Outfitters (our Browncoat charity booth), as well as hosting regular social events for Melbourne's Browncoat community, such as trivia nights, dinners, movie nights and more.
Website
Oz Comic Con is the ultimate pop-culture and fan expo, featuring multi-genre content from across the spectrum; from film and television stars to comic book and anime artists, gaming demonstrations and cosplay competitions, to portfolio reviews and creative workshops and master classes.
Website
Quantum Mechanix specializes in the design and manufacture of licensed high-quality replicas of vehicles, props, and other artefacts from television and motion pictures. The Official Serenity Blueprint Reference Pack, The Malcolm Reynolds Stunt Pistol and the Blue Sun Travel Posters are just some of the fine Qmx products from the 'Verse, with many more to come! Licensed franchises include Serenity, Battlestar Galactica, Stargate SG-1, Stargate Atlantis, Classics of Sci Fi, and Universal Monsters.
Website
Sending A Wave is the first UK based Firefly/Serenity podcast, going strong since 2006. Subscribe now and join hosts Wendy and Odile for all the latest news about the verse and all things Joss Whedon fresh from the United Kingdom.
Website
The Signal is an award winning podcast covering all things Firefy and Serenity. Since 2005, the dedicated Signal crew have entertained and educated Browncoats across the world with special features, news, reviews, interview, chat, and anything else they can think of relating to the universe of Firefly and Serenity.
Website
Smart Pop Books (an imprint of BenBella Books) is a line of smart, fresh, funny essay anthologies on the best of pop culture tv, books, and film, with a particular focus on science fiction and fantasy television and literature. Since 2003 they've published over 4 dozen titles on everything from Star Wars to Gilmore Girls to the work of Joss Whedon (including Finding Serenity, Serenity Found, and The Psychology of Joss Whedon). Check out the rest, and read a new free essay every day from their line, at their website.
Website
Supanova Pop Culture Expo is where the adoring public comes face to face with Supa-Star celebrities and the creative talent that inspire their imaginary worlds under one big roof.
Website
Think Geek: On the surface, ThinkGeek is the premier retailer for the global geek community but we're also much more. Founded in 1999 to serve the distinct needs and interests of technology professionals and enthusiasts, today ThinkGeek creates imaginative gifts for the geek in everyone. We're proud Browncoats and are happy to support Can't Stop the Serenity.
Website
Nathan Town is a Browncoat filmmaker, famous for the brilliant parody Mosquito. See all his stuff at his website, well worth it!
Website
Adam Warrock is an Indie pop cultural comic book geek emo Browncoat rapper guy. Listen to his Firefly mix tape here.
Website
Joss Whedon has delighted fans since he began writing episodes for Roseanne and on beloved movies like Toy Story. Since then he's given us jewels like Buffy the Vampire Slayer, Angel, Doctor Horrible's Sing-along Blog and Dollhouse. Of course, for us here at CSTS, Joss is THE MAN responsible for giving us the very shiny Firefly and her big damn companion movie, Serenity – the flagship of our Can't Stop the Serenity efforts.
Previous Global Sponsors
2012 Sponsors
2011 Sponsors
2010 Sponsors
2009 Sponsors
2008 Sponsors