Sponsors
Updated: June 19, 2008 (updated items are marked with

, new are marked with, well,

)
The organizers of the Can't Stop The Serenity events are grateful to the companies listed below for their support of the 2008 campaign. We have two categories, One per Global Sponsorship and One per City.
One per Global Sponsorship
Each participating city will draw one winner from the attendess at their screening and send those names in to be entered in the final prize drawings for these items:

Creation Entertainment


GOLD WEEKEND PACKAGES to SALUTE TO FIREFLY AND SERENITY, a Celebration for Fans






These are our "top of the line" deluxe packages for those that want to experience the entire weekend in the very best way. Seating is done on a when paid basis and seats are assigned in order. Here's what is included in these packages:

1) The very best reserved seatings for daytime convention main auditorium events both days.
2) Complimentary in-person autographs from appearing celebrities offered in a non-hurried manner from guests. So far, you will get to meet and get autographs from ADAM BALDWIN and JEWEL STAITE with more to be announced. On occasion a guest speaker may not be included in the gold packages but generally the major stars are.
3) Complimentary admission to the famous DESSERT PARTY with the stars on Saturday Night. This event, surely a highlight of the convention, is exclusive to GOLD WEEKEND Patrons. Music, delicious desserts, fellow fans from around the globe, celebrities and a cash bar to keep it hopping.
4) Seating at the Sunday Morning Celebrity Brunch, another super-cool exclusive to GOLD WEEKEND PATRONS event. Always awesome! First booked celebrity guest is certainly a favorite: ADAM BALDWIN!
5) First for autographs done row by row. Gold does have its privileges!
6) Pre-Registration so once you get your admission credentials which are special coded wristbnds you don't have to wait again.
7) Complimentary Gold Weekend Patron Exclusive Serenity/Firefly gift. Past gifts at conventions have included a gold coin, a plaque, autographed items, and souvenir carry bags.
8) Gold Weekend Patrons are allowed to drop into the other two conventions going on in the hotel during the weekend (in different ballrooms) on a space permitting basis in general admission. The other two events are The Official STARGATE SG-1/ATLANTIS CONVENTION and Creation's Salute to BATTLESTAR: GALACTICA. Also, the Sunday Breakfast and the Dessert Party are all shared functions of all three conventions and that means THREE TIMES THE CELEBRITIES TO MEET AND THREE TIMES THE FUN! It is going to be WILD!

The GOLD WEEKEND PACKAGE is available in limited quantity for the price of $349.

BURBANK, CA
Sat. & Sun. November 22-23, 2008
The Weekend Before Thanksgiving
Burbank Airport Marriott Hotel
2500 Hollywood Way

DONATION: Two Gold Weekend Package Tickets to SALUTE TO FIREFLY AND SERENITY, a Celebration for Fans
(Winner will be responsible for room, board and transportation.
Winner has a choice of either being mailed the tickets a week or so prior to the event, or they can pick up the tickets at the day of the event at will call. )
Austin Browncoats

The Austin Browncoats, founded in 2007, is a 501(c)(3), tax-exempt non-profit located in Austin, TX. The Austin Browncoats work to end violence and discrimination in all sectors of society. We place special focus on working alongside young women and children because, given the opportunity and proper education, young women and children can help create a better world for all beings. Much like our passion for the amazing works of Joss Whedon, such as "Firefly", we are passionate about our causes and raising funds for our charities, including Equality Now, SafePlace, Heart House and Emancipet.

Join The Austin Browncoats as they present your 2008 Browncoat Ball. They're the new Silicon Valley in the heart of the Texas Hill Country, located dead-center in the most independent state in the union. Heck, it's the only state that ever was it's own country! Welcome to where the Old West meets the Final Frontier.

Visit Austin on October 10th thru 12th with 150 of your newest best friends, and enjoy Friday night cocktails and craft, karaoke and video games, Saturday morning breakfast and afternoon activities, including knife throwing, mahjong, fight choreography, filking with The Bedlam Bards, belly dancing and more! Enjoy a 'Verse inspired banquet, including a Protein Bar and BBQ Station, and dance the night away with music from The Bedlam Bards, The Brobdingnagian Bards and a fabulous String Quarter, with Dance Calling by the wonderful Ammy Hill. Don't forget to say farewell to all of your new best friends during our Sunday Southwestern Brunch. We'll have prizes to give away all during the event, as well.

DONATION: Two full event tickets to the Browncoat Ball
(Winner will be responsible for room, board and transportation. Visit www.browncoatball.com to see what Full Event tickets include )
Buffy Between The Lines

Buffy Between the Lines is a fan-created audio drama. It's created, written and produced by Buffy the Vampire fans from around the world. Each season focuses on the "summer" spaces between the seasons of Buffy the Vampire Slayer. Our first season is between seasons five and six.

DONATION: A minisode voice talent role
One per City
Each participating city will recieve one of each of the following items:


Nothing But Red

Nothing But Red is an anthology of literary and visual arts inspired by Joss Whedon's impassioned call to activism in response to the "honor killing" of 17-year-old Du'a Khalil Aswad. All sales of the anthology, which is currently available in multiple formats at www.lulu.com/nothingbutred, benefit Equality Now.

More information about the project can be found at http://nothingbutred.wordpress .com/.

Donation: Two copies of the electronic version of Nothing But Red are available to each CSTS city to raffle off to attendees; in addition, attendees can contact us directly at nothingbutredbook@gmail.com to enter a raffle to win one of two print copies of the book, which will be given away at the end of the summer.

Things From Another World (TFAW) is a comic retailer, with roots in the industry going back nearly three decades. This experience translates directly into a knowledgeable staff, great selection and prices, and the personal, courteous service you deserve. Through our online store, TFAW brings a mountain of new and back issue comics, action figures, statues, and other merchandise to customers worldwide! At TFAW you'll find thousands of titles like Serenity, Angel, Buffy The Vampire Slayer, Hellboy, and more - all at your fingertips. Visit us at TFAW.com, and see for yourself why no matter what you're into - we have just the thing for your collection!"

Donation: Things from Another World has made a very exciting offer. They will be extending a promo code, for use at tfaw.com, good mid-June through September 30th. Using this promo code secures free domestic (US) shipping or $5 off international shipping, plus 5% of the order will be donated directly to Equality Now!

This offer is for all CSTS Participants.

76th Independent Battalion

The 76th Independent Battalion was formed in November of 2006 with the idea of getting a few people together to march as Independent soldiers at DragonCon 2007. The first post was made on Fireflyfans.net, and the response was overwhelming. By December of 2006 we had our own website and messageboard. Our inaugural march at DragonCon 2007 found thirty-five uniformed Independent soldiers walking in ranks down Peachtree (and special thanks to the SEBC for making that possible).
We currently have over 200 members registered on the messageboard and many more than that on our homepage roster.

Donation: 76th Battalion: Browncoat Essential Kit
(Browncoat Keychain, Browncoat Magnet, Independent Earrings, Independent Patch, Independent Patch Leather Coasters, Independent Patch Bean Bag Horse, Coffee Mug with Independent Patch Design, Tote Bag with Indepedent Patch to carry all goodies, and a special item from ArtCat Designs that will be used on a special Abbyshot production. Be the first person to get one of these. One of what you ask? That's a surprise!)
Wilco

Want to have the shiniest weapons from the 'Verse for the best price in the World? Wilco Models makes Prop Replica kits of all your favorite Firefly/Serenity weapons, including Mal's Pistol! These items are 1:1 scale and are made of cast resin. Kits come in cast resin pieces for the custom creator in you, or you can purchase these items already assembled. Go to: http://search.ebay.com/ _W0QQsassZwilcomodels for Wilco's current eBay listings. If you have any questions, email Wilco Models at wilcomodels@hotmail.com.

Donation: Wilco Models: Prop Replica Resin Grenade (Firefly)

"IT SURE WOULD BE NICE IF WE HAD SOME GRENADES, DON'T YA THINK"

DoneTheImpossible.com

Done The Impossible: The Fans' Tale of Firefly & Serenity is available on DVD and CD soundtrack through DoneTheImpossible.com and Amazon.com. Done The Impossible has had the distinction of being an Official Selection at many film festivals around the world.

The DVD, hosted by Adam Baldwin with voice-over by Jewel Staite, features interviews with Joss Whedon, the cast, crew, and most important, the fans themselves. The story chronicles the rise, fall, and rebirth of the cult TV show "Firefly" as told from the perspective of the fans who helped save it.

The CD soundtrack features seven outstanding artists and crosses multiple genres including Celtic and filk: The Bedlam Bards, Brobdingnagian Bards, Dan Sehane, Emerald Rose, Michelle Dockrey, Rob Kuhlman, and Tony Fabris.

DONATION: Done the Impossible CD Soundtracks

Quantum Mechanix

Quantum Mechanix specializes in the design and manufacture of licensed high-quality replicas of vehicles, props, and other artifacts from television and motion pictures. The Official Serenity Blueprint Reference Pack, The Malcolm Reynolds Stunt Pistol and the Blue Sun Travel Posters are just some of the fine QMx products from the 'Verse, with many more to come!

Licensed franchises include Serenity, Battlestar Galactica, Stargate SG-1, Stargate Atlantis, Classics of Sci Fi, and Universal Monsters.

Sign up for the QMx Insider Newsletter and receive the latest updates, special offers and product exclusives.

DONATION: Serenity Bank Heist Money Packs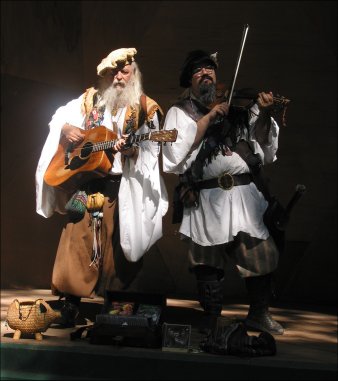 Bedlam Bards

On the Drift: Music Inspired by Firefly and Serenity is the Bedlam Bards' musical homage to the brilliance of film and television writer Joss Whedon. This collection of music was created to echo the shows' passion, beauty, and humor. As featured by The Signal podcast and the documentary Done the Impossible, this album is the perfect companion for Browncoats everywhere.

DONATION: Autographed 'On The Drift' CDs
The Joss Whedon Fan Club

The Joss Whedon Fan Club was founded by sister and brother, Kristin and Erich, in July of 2006. Armed with Erich's business degree and web programming skills and Kristin's determination and resources, the siblings established a parent company, Compressed Carbon Enterprises, LLC, and started the arduous process of getting the Fan Club off the ground.

Although the Fan Club is still in its infant stages, Kristin and Erich are proud of what they've accomplished so far, and have many exciting plans for the future. Kristin is learning to write HTML so she can participate in the website design and update process. She has also attempted to contact Mr. Whedon himself, in the hopes of earning his personal endorsement of the club. In addition, the team hopes to stage a Joss Whedon convention is 2009 or 2010.

DONATION: Special Fan Club Membership package
Dark Horse Comics

Founded in 1986 by Mike Richardson, behind the concept of establishing an ideal atmosphere for creative professionals, Dark Horse Comics has grown to become the third-largest comics publisher in the United States and is acclaimed internationally for the quality and diversity of its line. By attracting the top talent in the comics field, Dark Horse continues to change the shape of the industry and grow its brand throughout the world. In conjunction with its sister company Dark Horse Entertainment, Dark Horse has over 350 properties currently represented under the Dark Horse banner, serving as the jumping-off point for comics, books, films, television, electronic games, toys, and collectibles. In 2008, Dark Horse distributes its characters and concepts into more than fifty countries, continuing its mission of content creation and distribution in all of its forms throughout the world.

DONATION: Copies of Serenity: Better Days - at least 2 copies of Better Days #1, 1 copy of Better Days #2 and #3.
NBC Universal

NBC Universal is one of the world's leading media and entertainment companies in the development, production, and marketing of entertainment, news, and information to a global audience. Formed in May 2004 through the combining of NBC and Vivendi Universal Entertainment, NBC Universal owns and operates a valuable portfolio of news and entertainment networks, a premier motion picture company, significant television production operations, a leading television stations group, and world-renowned theme parks. NBC Universal is 80% owned by General Electric and 20% owned by Vivendi.

DONATION: DVDs of 'Serenity: Special Edition'
DragonWeave Jewelry

DragonWeave Jewelry is a home based company in Philadelphia, Pennsylvania, run by Nicole Bornak, with her sister Jillian's bead bracelet designs. Together they present this collection of unique and stylish silver jewelry in designs ranging from gothic and Celtic mythology, goddess, angel, and animal motifs, Japanese, Chinese, and ancient Egyptian symbols, and striking modern jewelry designs. And, of course, every silver dragon charm they can find.

They are always eager to hear your comments and suggestions, feel free to drop them a line and share your opinions and ideas. They will do their best to make DragonWeave Jewelry a rewarding experience for you!

DONATION: Serenity Pendants
ReadMyChest.com

Seen a design in my CafePress Shop you like... and would BUY if only... well, fear not, e-mail CPDesigns@ReadMyChest.Com with the exact information, include the url of the page you saw what you like on, then let me know what you'd prefer... on the shoulders across the back instead of on the front? on the pocket? ... or maybe you love this shirt, but would buy it if the back featured a second one of my designs... let me know and I'll see what I can do!

DONATION: Special Coupon for Custom Art
More soon...