Prior Updates
You can find the latest news on our Home page.
Dallas Statement Regarding 2007 Donation
September 05, 2008
I am pleased to report that the entire missing donation from Dallas CSTS 2007 has been paid to Equality Now by Devin Pike, the local event organizer and also CSTS 2007 global organizer. Amanda Sullivan of Equality Now confirmed that a total donation of $7,000.00 was received on August 26, 2008 . This included the original $5,612 as reported collected from the Can't Stop The Serenity 2007 local event and $600 collected from the global eBay auction. In addition to these amounts from CSTS 2007, a screening of "Serenity" was held in late Oct 2006 in Plano , TX . A reported total of $788 was raised with the advertised intention of proceeds being donated to Equality Now.
In my helping with coordinating of the local event for this year, I was made aware in mid May about the missing donation of funds that were raised to go to Equality Now. I immediately sought control of the local events' organization and operating funds from the returning organizer Devin Pike, and started an investigation in regards to the missing donation. I felt that this needed to be done in order to have a successful event for this year. I consulted with Amanda Sullivan and Beth Nelson, our CSTS global organizer for 2008, and we felt it best to not go public with the investigation because we had no other information other than the fact that the donation was missing. The discovery of additional missing funds and ultimate recovery was a team effort of my local organizing crew, Amanda Sullivan, Beth Nelson and Miranda Ween, Assistant Global Organizer, Southern Hemisphere. Beth's ongoing attention and dedication to this charity event were greatly appreciated.
Devin Pike has not given an explanation with consequence as to why these donations were not made after the events were held. I feel it best that no more energy be expelled in trying to gain one, for what was done is done, and it has now been rectified with a satisfactory result.
With the faithful return of many attendees, Can't Stop The Serenity 2008 - North Texas held a fun and successful screening event along with the first ever, CSTS local women's music showcase. Our special guests were Tim Minear and Beth Nelson. We raised an astonishing $4,318.64. This was only made possible with the support of some very dedicated crew members and our local Browncoats. My favorite quote, as written by Tim Minear in Firefly:The Message, "When you can't run anymore, you crawl… and when you can't do that... you find someone to carry you." I think that this sums up the feeling that this event is a group effort and everyone lends a part to helping fund a deserving, wonderful, worthy charity. We should all be so proud.
Tara J. Fallon
Organizer of CSTS 2008 – North Texas
tarajfallon@gmail.com
Special Guest at Utah CSTS
July 23, 2008
It is my pleasure to report that we have a special guest attending our Salt Lake City, UT Screening.
Geoffrey Mandel
Geoffrey, graphic designer on Serenity, will be attending our event and signing props for our raffle. For those of you in the know, Geoffrey is also one of the co-creators of the Serenity reference pack from Quantum Mechanix and the designer of the Alliance Bank Heist Money used in the film and now available online. He is an ongoing creator of various collectibles in the 'Verse and we are happy to have him join us for the event to speak of past and future projects.
Nicole Dowland
Utah Browncoats
2008 CSTS Organizer
utahbrowncoats.angelfire.com
Statement about 2007 Missing Donations
July 22, 2008
Thank you to everyone who has been providing assistance, advice and support while we have been working to resolve the issues surrounding 2007 donations from Dallas and Denver.
We know that you are all waiting on the official statement from CSTS Global on these matters, and we appreciate your patience. We hope to be in a position to provide the statement in the next week.
However, in the interim, I would like to reassure you that we have been taking these matters very seriously and are determined to ensure that the lessons that have been learned from 2007 and 2008 will not be forgotten. These lessons have highlighted the need for more structure at both global and local levels.
I hope everyone will offer their constructive opinions on the CSTS forum for both Global and Local Organizers:
http://cantstoptheserenity.com/forum/viewtopic.php?t=341
http://cantstoptheserenity.com/forum/viewtopic.php?t=340


Thank you,
2008 Global Team
Denver Statement Regarding 2007 Donation
July 08, 2008
I am pleased to report that all missing funds from Denver CSTS 2007 have been paid to Equality Now by Jeremy Vinding. Amanda Sullivan of Equality Now has received a confirmation of a payment in the amount of $2500 as of this morning. This includes funds for our original estimate of $1900 plus an additional $600 funded by Jeremy personally. Please know that the additional funds were given voluntarily and were not demanded or even expected.
Over the past year Jeremy Vinding has had several health problems and these struggles impeded the immediate payment of the EN funds as well as his ability to communicate with the necessary parties. At no point were the funds used by Jeremy to pay any bills or debt; they have been secured in his account this entire time. Representatives from both EN and CSTS Global have been working tirelessly with me over the past several months to find a way to get in touch with Jeremy to determine the status of the funds. While it can be easy to assume the worst, we wanted to find proof of what happened to the funds, and retrieve them as soon as possible. Family assistance over almost that entire span of the investigation had alluded to medical issues, yet nothing was verifiable until now. Issues of this severity - missing funds and failing health - each hold an intense sensitivity that require the utmost care in their handling and demand both ethical and professional considerations that could not be forced forward. We desperately wanted to avoid speculation, because the repercussions of posting conjecture can bring on worse than legal trouble. It can wrongly accuse someone that is innocent of the "suggested" crimes.
We are grateful for the hard work of those involved in bringing this matter to a favorable resolution and thank you for your patience and understanding of the delicate information regarding this case.
Moon Knoke
Organizer of CSTS Denver
Director of the Mile High Browncoats
More on Donations
July 07, 2008
We have adjusted our reporting process for the donations tally. First, the cities will send proof of donation to the Global Organizer. Then, once Equality Now confirms the donation, we post their final, total donation. (If the city sends in additional donations after their total is added to the website, once again as soon as they are confirmed by Equality Now, their total will be adjusted.)
Donations
July 03, 2008
Cities have begun to report their donations to the Global Organizer. Cities who have provided proof of their donation (copy of the check sent, copy of the PayPal donation confirmation, etc) now have a

next to their name.

Once Equality Now has confirmed the funds have been received, the icon will change to

.
Ziraxia Donation Offer
June 19, 2008
It's time for a change. If the current regime is how things are supposed to work, maybe we need some candidates that aim to misbehave.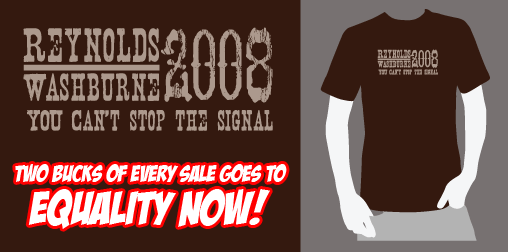 Vote Malcolm Reynolds and Zoe Washburne in 2008, you can't stop the signal!

Show your support for the only candidates worth supporting in a screenprinted American Apparel or Beefy T-shirt.

Until September, Ziraxia will be donating $2.00 of every Reynolds/Washburn 2008 shirt sold to Equality Now! When there's a fight worth fighting, us browncoats gotta stick together.
Special Guest
June 19, 2008
Los Angeles, CA (US): We are appy to announce a special guest at the Los Angeles Can't Stop the Serenity screening on Friday June 20th!

Hunter Ansley Wryn

Hunter played young River in Serenity. She will be at the theater to watch the movie with us.

There will be further details regarding any possible Q&A's, signatures, etc. at the screening.

Tickets are still available and can be purchased at our table in the lobby before the screening.
Special Guest
June 17, 2008
VA, Arlington: Jo Chen (artist who created the Firefly "Kaylee" comic cover, as well as numerous Buffy covers) will join us on Saturday before the screening! After the film, we'll auction off a "Faith" cover from Buffy, signed by Jo, Eliza Dushku, and Joss Whedon! Make sure to bring cash for the auctions!
QMx Wants to Give More Back, Continued CSTS Support
June 2, 2008
QMx was the first vendor to become a Lifetime Supporter of CSTS.

They've done so much to support our events, including making a donation to each city involved in CSTS.

Well, they've decided to take their support one step further. From QMx:
"QMx Proudly Supports Can't Stop The Serenity

Quantum Mechanix will donate 10 percent of the price, before taxes, of all purchases made at www.qmxonline.com between June 19th and September 30th to Can't Stop The Serenity. Simply enter "CSTS" in the notes field when you check out to give 10 percent of your purchase to benefit Equality Now. Offer applicable to all products, except Artisan products.

Remember, you must enter "CSTS" in the notes field of the order when you check out for the donation to apply.

QMx - Bringing The 'Verse to Life"
The Signal Interviews Global Organizer Beth Nelson About Can't Stop The Serenity
May 29, 2008
Check out The Signal to hear their interview with CSTS Global Organizer about 2008's Global Events. Also, listen for the first Phantom Screening Promo, right before the interview.
'How To' Guide Available for Organizers, New and Old
May 23, 2008
Your 2008 Global Organizing Committee, with the help of organizers from multiple cities across the globe, have put together a 'How To' guide for folks wanting to organize a Can't Stop The Serenity event. This guide has detailed information about how to start organizing an event, how to seek sponsorships, where to send money, etc. We hope this helps all of our organizers, new and old alike. You can find the Guide on our How To page.
CSTS Global Organizer on Sending a Wave
May 21, 2008
Sending A Wave talks to CSTS 2008 Global Organizer Beth Nelson. Visit their website to download the podcast for Show 34.
Sponsor Update
May 13, 2008
Creation Entertainment has joined us as a Global Sponsor! They have donated Two Gold Weekend Package Tickets to SALUTE TO FIREFLY AND SERENITY, a Celebration for Fans. More details can be found on the Sponsors page.
On Sale
May 1, 2008
Many cities now have their tickets and t-shirt pre-sales open - just look for the
. Keep an eye on the list under Screenings as more cities are steadily being added.
Regarding the Can't Stop The Serenity 35mm 'Serenity' Print Shortage
April 23, 2008
In recent days, there has been some growing concern about the status of many "Can't Stop the Serenity" events. While it is true that three quarters of the Serenity 35mm prints in the U.S were accidentally destroyed recently, it is also true that this is a problem those running CSTS can and are handling. In fact, we are still hoping to add additional cities to our slate. So, if you are interested in putting on an event please go to look around this site, especially the forum, to find out how to get started.
Regarding the shortage, it is important to note that the only events being affected are those in the United States . All events outside the U.S. have not had any prints of the film destroyed, and are thus unaffected. Furthermore, Universal will be shipping in a number of prints from around the globe to help account for the shortage, at cost to them, which is incredibly generous. When this, and the fact that a number of events are, and many are switching to using a DVD format projector for their event, the shortage becomes no more than a minor inconvenience and a matter of shuffling the available prints around to different cities. There may need to be some minor tweaks to the dates of some CSTS screenings but again these changes should be minor.
Can't Stop the Serenity is an organization with a superb set of leaders who are more than capable of handling this inconvenience. There has already been $10,000 raised for this year which is a strong start to attaining our goal of raising $150,000.
The CSTS Organizers are working tirelessly to gather data and overcome these challenges. We encourage all Browncoats to band together to ensure the success of CSTS 2008. When Browncoats unite, no power in the 'verse can stop us.
Elizabeth Nelson
2008 Global Organizer
Can't Stop The Serenity
www.cantstoptheserenity.com
Charity auctions dinner dates with stars of X-Files, Battlestar, Firefly, Dollhouse, Men in Trees, Atlantis and more
April 16, 2008
Help some of your favorite stars who are trying to raise funds for cancer treatment for a fellow actor. Fans can bid on dinner dates with David Duchovney, Jewel Staite, Chris Carter of X-Files or Tahmoh Penikett and Kandyse McClure of Battlestar, plus tons of other cool stuff to raise funds for the Babz Chula Lifeline for Artists Society. You can bring a guest so this is the perfect gift for your fave fanboy or fangirl. Bid by April 20 2008 here.
About the charity: The Babz Chula Lifeline for Artists Society is anon-profit society that was created by a group of high-profile Canadian actors who joined forces to raise money to help pay for our dear friend€'s mounting medical bills.
Babz Chula is regarded as one of Canada's most accomplished actors and a veritable life force in Vancouver's independent film community. She is a generous mentor to young artists and a tireless volunteer to countless charity causes.
A cancer survivor for many years, recently, Babz learned that her cancer has recurred. Once again, she's fighting for her life, undergoing both traditional and naturopathic treatments, the latter of which is not covered by medical insurance.
Please show your support by donating or bidding on an upcoming auction on eBay.
First CSTS Fundraising Event of 2008
March 2008
The first special CSTS fundraising event of 2008 has already been held. Cedric, from the Bedlam Bards, famous for their 'verse inspired music, has auctioned himself and his musical talent off to the highest bidding CSTS city, with the promise that the money will go back into that city's overall donation - It would be money well spent. Two cities kept battling it out, but in the end, Houston, Texas won the auction and now have $4,010 to go towards their city's donation.
CSTS 2008
September 2007 by Beth Nelson
First, I would like to take this time to thank everyone that has participated in Can't Stop The Serenity for the past two years. Being a part of the event has been one of the highlights of being a Browncoat. I can't begin to express what an amazing feeling it is to know that thousands of people are enjoying the movie, Serenity, and donating to charity - at the same time!
We must continue to grow and exceed our expectations. In 2006, events were held in 47 cities and raised over $65,000 for Equality Now. In 2007, 46 cities were able to make over $114,000. We lost one city, but almost doubled our Global Donation. That is amazing momentum! We must continue to focus on what this event is trying to do - we are helping Equality Now is their mission to end violence and discrimination against women and girls around the world. That is a huge task - but we're ready for it. In 2008, we are hoping to expand the number of cities that are hosting events to 55 globally. Our donation goal for 2008 is $155,000. Continuing to grow this event might seem like an overwhelming task, but I can't imagine a better group of people that are up to the challenge.
We already have a number of Global Sponsors, including QMx, The Bedlam Bards and The Joss Whedon Fan Club. We are also working with the Coordinating Committee of 2008's Browncoat Ball, who will donate two tickets to their event: a weekend of 'Verse related activities including a Ball a la the episode Shindig. Speaking of The Bedlam Bards, we have an amazing eBay auction we're going to announce in the upcoming future. Bookmark this site, if you haven't already, because this is going to be awesome!
Like Devin Pike, the 2007 Global Organizer said, "Mark your calendars and tell your friends." 2008 will be a year to remember.
Thank you again! If you're interested in hosting an event, join our forum and hit the ground running.

-- Beth Nelson
2008 Global Organizer, Can't Stop The Serenity
Chairperson, Austin Browncoats
Built for the Future
September 20, 2007 by Devin Pike
Now that we've all had an opportunity to recuperate from the breakneck pace of putting on the 2007 Can't Stop The Serenity events, it's time to look at what we accomplished in the past year, and the direction in which we're heading.
Our goal was to raise over $100,000 globally for Equality Now. Not only did we shatter that mark, by raising $112,677.05 for the international women's rights advocacy group, but organizers in various cities used the event to raise additional funds for other worthwhile charities.
In Arizona, $1,094.20 went to the Women's Foundation of Southern Arizona from the Tucson screening, while the Tempe event raised $1,239.05 for Growth Improvement for Female Teens. Cleveland's event raised over $400 for the Domestic Violence Center. Portland raised $1,160 for the Women's Film Initiative, in addition to holding on to the Grizwald as the city with the highest EN donation total ($13,000). Boston's event collected over 1,100 pounds of food for the Greater Boston Food Bank.
And, even though I said we're now fully done with the hustle and flow of the 2007 events... we're not. Ann Arbor, MI holds events this weekend, and Atlanta, GA has their screening on 30 September. Following that, we'll have one more "total update" to report.
As the 2007 Global Coordinator for Can't Stop The Serenity, I couldn't be more proud of what we accomplished as a disparate group of rogue event planners.
The same can be said for "The One True b!X," the evil mastermind behind the Can't Stop The Serenity events:
Joss began Buffy: Season 8 (if I can be forgiven for switching from one part of the Whedonverse to another) with these words: "The thing about changing the world... once you do it, the world's all different." In the end, the goal of Equality Now's work is just that: Changing the world.

This year's CSTS take of more than $112,000 is more than drop in the bucket for an organization like Equality Now. But the world isn't changed just yet. Equality Now is in it for the long haul. And so CSTS must keep going, on towards 2008 -- because there isn't anything else but to keep going.
I'm stepping back from the Global Coordinator position knowing that the event is in good hands. Beth Nelson, the organizer for the 2007 Austin events, will be assuming the mantle, effective immediately.
Beth took the Austin event from being an afterthought in 2006 to being the second-highest fundraising market in 2007. Her prior experience in fundraising for Austin's SafePlace gives her a unique perspective on how to broaden the financial commitment from the business community. I'm confident that we'll look back at the 2008 events as another year of phenomenal growth for Can't Stop The Serenity.
I asked Beth to talk a bit about her motivation to sign on for the 2008 Coordinator's role. Her response:
CSTS is all about local charities leading to a global community. It's about Browncoats taking their passion for Joss Whedon, "Firefly" and "Serenity" and turning that into something beneficial not only for the fandom community, but for everyone. Equality Now is the kind of cause that everyone can get behind because they are not only doing what is right, but what is required; we need to end violence and discrimination. Period.

We've done the impossible, we've topped the impossible. In 2008, anything is possible! 2008's goal is to raise $150,000 with 55 cities participating. Some have already started their planning, so get ready for CSTS 2008. We've hit the ground running!
We've set a rather high bar for ourselves. It's easy to say, "Hell, yes, I'm doing an event next year" on June 25, but once you start taking a look at everything you want to implement to tack the "bigger and better" ribbon on the following year's event, it gets a little more daunting.
I'm ready for the challenge. I know b!X and Beth are ready for the challenge. I'm fairly certain you are as well.
-- Devin Pike
2007 Global Coordinator
Can't Stop The Serenity