Every year we invite Browncoats from around the Globe to submit designs for the next year's Can't Stop The Serenity. The official announcement will be made soon so start thinking about what you are going to create. Take a look at what you'll need to know but essentially:
All artwork you submit must be your own. If you plan to incorporate any stock imagery in your entry, you must have documentation showing that you have permission to use and reproduce it.
Don't use copyrighted artwork in your submission.
Because this is about Equality Now and Peace in the 'Verse, there should be no overt violence portrayed within the art.
The official CSTS logo which incorporates the Equality Now & Serenity symbols must be part of the design and must remain as designed.
But this year isn't over! We have an amazing auction starting next Saturday, Nov. 16th. We have had some wonderful donations. For instance, James Hance drew all the Serenity crew in one day then donated the original artwork to our auction. Zoe here will be paired with Wash as one auction item.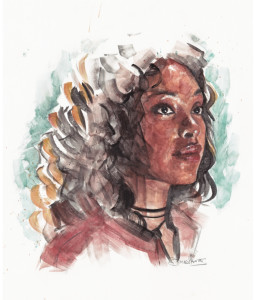 Stay tuned for more details and pictures of some of the shiny items.
Continue Reading...