Every year we have a great Can't Stop The Serenity auction on e-Bay but this year, we've outdone outselves.
Two weeks from today, November 8th, the auction starts and it runs for only a week.
Thanks to some generous donors we have items that truly celebrate our 10 years of raising money for Equality Now and other charities.
How about a copy of the Collectors edition of Serenity signed by Joss Whedon himself?
Or an extremely rare Firefly Official Promo Digital Watch?
There is a screen used prop from the movie too!
The auction includes rare autographs and collectable items from a couple of fandoms including Star Wars. There is some of the sponsors pack items we sent to each city so even if you weren't close to an event, you can still have the swag.
Keep an eye out for details as we get closer to the date and start saving your credits! And please! Tweet and post and share this everywhere you can. Spread the Signal far and wide.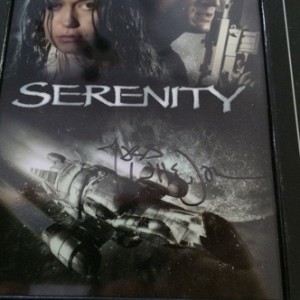 Continue Reading...