Announcing we'd passed the one million dollar mark in donations was a momentous occasion for us.
This is an achievement that belongs to everyone who ever helped organise, attended, sponsored, spread the signal about or donated to a Can't Stop the Serenity event. Big Damn Heroes all of you!
To celebrate all the thrilling heroics we want to show the world the amazing Browncoats who made this possible. We're looking for photos of Browncoats with signs celebrating that globally we've raised over 1 million dollars.
We would love pictures of you holding a sign along the lines of:
"Congratulations CSTS on raising $1M for charity from (Your name here) #CSTS1Million".
It can be just you or a crowd of Browncoats. Have fun with it, be creative. Dress up in costume or show off your Can't Stop the Serenity merchandise. Play around with photoshop. Your choice. Just don't forget to tell us who you are!
Send your pics to info@cantstoptheserenity.com
Over the season we'll be featuring the photos on our website and across social media.
Below is one of our first submissions from Brooke of CSTS Lawrence, KS, we can't wait to see yours!
We have done the impossible and that makes us mighty!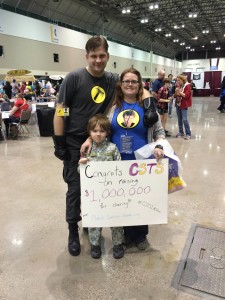 Continue Reading...